Ever wanted to make money by listening to music? You do it for free anyway, right? What about a site that lets you choose genres you listen to, for you to listen to, and they PAY you? Sounds crazy, right? Not so crazy. Keep reading....


I have been doing this for a while now. While, I don't make a full time living off this site, I do well to make extra spending money. These days $20-30 bucks extra is worth my time. Especially when all I have to do is listen to a song, write a few sentences about it, and there. I have made money. Also, I can invite my friends to listen, too, and I earn money from things they do. It costs nothing to join, so why haven't you started already?
www.slicethepie.com

Get started and Slice the Pie! Don't forget to tell your friends!!
Hey, here is another way you can earn some gift cards (including to paypal. that = cash$$) and free gifts and samples:
Crowd Tap
Making money on Twitter is easy if you have a lot of followers. I recommend a minimum of 200 followers to start. If you have 10,000+ you can really make big bucks! I have nearly 2,000 followers and I do pretty well with my price set low to get more offers.

The more offers you get, the more money you make. You may get paid $1.50 just to tweet something once or you could get an offer that pays a base fee of $0.75 plus $0.10/per click! That really adds up. Just for tweeting??

If you have a good amount of Twitter followers, you can get paid for tweeting! Follow me on Twitter @Fyreflye14. I folllow back!! Check it out here Sponsored Tweets and start getting paid!!
Tweets by @Fyreflye14
I use all of these different methods for online money making. It puts extra money in my pocket and they are all legit and FREE!!!
EdenFantasys is my most profitable online endeavor. You can make 5-20% commission on your refferals and 3% on all the referrals of the friends you invite to make money!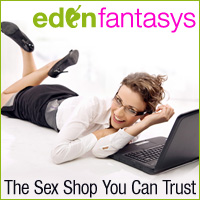 I am most successful on Eden as an affiliate. I make enough on that site to pay my rent monthly! Here is an invitation to begin earning Invitation to EdenFantasys. If there is anywhere to add a PARTNER CODE make sure to type in EPW. If you decide you only want to shop on Eden, you can use that same code for a coupon!
Kindle Paperwhite, 6" High Resolution Display with Built-in Light, Wi-Fi - Includes Special Offers

Kindle Paperwhite, 6" High Resolution Display with Built-in Light, Wi-Fi - Includes Special Offers



Here is my newest venture from home: Music City Wrappers by It Works!. It costs $99 (Special Price) to start up, but there is a market out there! You can get your own website, pamphlets, box of wraps, Home Success magazine, catalog, order forms, and much more. To get started enroll now!!